The 2016 national elections is already closing in, and we've seen some politicians already declaring their presidental bids — Jejomar Binay, Grace Poe, and Mar Roxas. Meanwhile, as of this writing, 
Davao City Mayor Rodrigo Duterte
 has not yet recanted his earlier statement of not running for president, despite the clamor of many Filipinos.
Is Rody Duterte going to run as president come 2016? [Image source: Mindanao Daily News]
While waiting for his final — and I mean really FINAL — decision on his possible candidacy as president, let us look at some of the ways that has endeared Digong to Dabawenyos. Even before his name rose as one of the potential contenders for the presidential race, Duterte has already won the hearts of Dabawenyos and many Filipinos.
Here are just seven of the biggest 
reasons why Dabawenyos love Rody Duterte
:
1. Safety is his primary concern
I have been in many places all over the Philippines, but it's in Davao City that I feel the safest. Duterte's policy on making peace and order a top priority has transformed Davao City from a notorious rebel haven to one of the safest cities in the world.
In Davao City, I can carry my backpack the way it should be carried (and not in front of my chest!). I can also take out my mobile phone out in the open — even in the downtown area — without fear of it getting snatched.
2. He has strong political will
Duterte's iron-willed personality has gained him respect from Dabawenyos. [Image from Keith Bacongco]
All of the controversial ordinances in Davao City — firecracker ban, anti-smoking ordinance, and speed limits — are not going to work if Duterte isn't strong in his stance.
I remember the time when the firecracker ban was implemented in 2001, to the shock of locals who enjoy fireworks during the New Year. More than 14 years later, the ordinance has kept Dabawenyos happy and away from exploded extremities and firecracker-related accidents.
During his extensive term as mayor of Davao City, Duterte enforced a ban on aerial spraying in banana plantations, mining ban, and an anti-discrimination city ordinance. His unswerving political will has been the subject of debates even between Dabawenyos, but at the end of the day, his active pursuit in upholding public interest always prevails.
He's also not afraid to voice out his opinions on national matters. He has been quoted in referring to the NCR as "Imperial Manila". And in fact, he has become the poster boy for federalism in the Philippines.
3. He has utmost respect for the law
The beloved Davao City mayor was once issued a traffic ticket for not wearing his helmet! (Image source: Rody Duterte Facebook page)
Duterte may sound like a man whom people fear, but it's only the lawbreakers who need to be afraid. His offensive strategy against criminals and strict implementation of city ordinances have earned him the monicker "Punisher" and "kamay na bakal" (iron fist), but it's all in the name of respecting the law and protecting the rights of the general public.
Having said that, it doesn't mean that Duterte hasn't violated any of the city ordinances. In fact, he was once issued a traffic ticket for failing to wear his helmet while riding a motorcycle. His family isn't exempt either, as his daughter and former city mayor Sara Duterte-Carpio was flagged for exceeding the speed limit.
4. He doesn't announce his heroics
Duterte prowls the night… on a taxi! [Image source: PinoyNewsCrunch]
We've heard so many urban legends about Duterte, some of which turn out to be true. My favorites include the following:


He drives a taxi during the night in order to survey the city without anyone noticing his presence.

In June 2013, Duterte offered a mother and her children a ride on his black pickup truck because they had difficulty getting a cab during the heavy rains. And in the rarest of coincidences, this happened againin August 2015 to the same woman and her children!

He insisted on helping someone lift up a heavy bag into the baggage compartment of an airplane where he was scheduled to fly.

These are just some of the incidents that most people don't expect from a high-ranking elected government official, but Duterte does it because "it's part of his job," as he always says.
Many of his heroics are not evident because he doesn't call the press to cover his activities, or plaster his name and face on relief goods and public places. You can never associate the term "epal" with Duterte. Never.
Typhoon Yolanda victims in Tacloban received generic-labeled relief goods from Davao City [Image source: Rocriz Lee via Facebook]
5. He has a sense of humor
Many Dabawenyos have had the privilege of talking with the beloved mayor, and they said that Duterte is funny and light-hearted in person.
Of course, Filipinos and netizens now know Duterte as not only a staunch defender of peace and order, but also a cool mayor who takes time to reach out to the younger generation through his participation in hilarious viral videos.
Here are some of his funniest videos:
6. He lives a simple life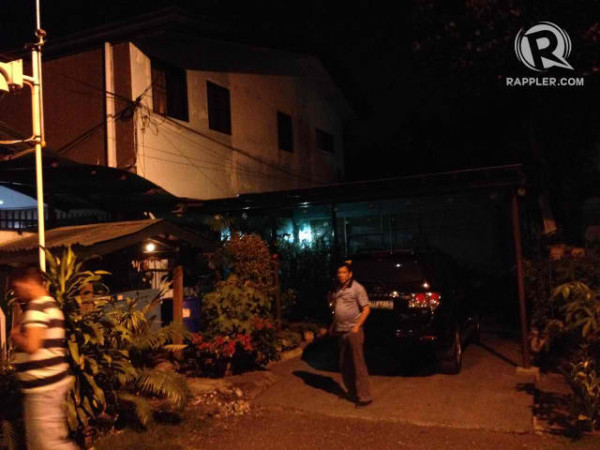 Duterte's house looks just like any other middle-class home in a Davao City subdivision. [Image from Rappler]
For decades, Duterte and his family have lived in the same house — a modest single-detached home that looks like one of the regular houses in middle-class Davao City subdivisions. Rappler was recently invited to his home, and it was the first time for many Filipinos — me included — to see what's inside his humble abode. And I was genuinely surprised to see the simplicity of his living.
His shoes are placed neatly on the floor and not stored in extravagant shoe closets. His living room is average-looking, and his bed is covered with a mosquito net! Nothing speaks "average Pinoy living" more than a mosquito net, if you ask me.
7. He goes beyond the call of duty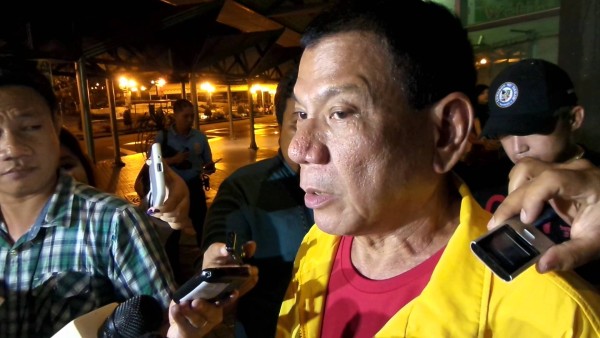 Duterte was one of the first government officials from outside Leyte to visit Tacloban in the Typhoon Yolanda aftermath. [Screencap from video by Ben Tesiorna]
Apart from his taxi driver night mode, Duterte is also known for serving over and beyond what's expected. He holds night offices outside the City Hall of Davao to talk to regular folks and address their concerns. In some occasions, Duterte even directs traffic when the situation calls for it.
In terms of public service, he goes beyond his bounds as Davao City mayor to extend help to other cities and provinces. He was one of the first government officials from outside Leyte to visit Tacloban in the Typhoon Yolanda aftermath. Recently, he actively involved himself in determining the perpetrators of the Samal kidnapping case.
And then, there's his long-running weekly public service TV show "Gikan Sa Masa, Para Sa Masa," where he shares updates about the city, answers questions raised by Dabawenyos, and talks about his thoughts on issues involving the city.
———————————
I'm sure there are a lot of other reasons why the people of Davao City have come to love and appreciate Rody Duterte. Have I missed something? Sound off in the comments below!
[Duterte black & white picture courtesy of Esquire Philippines Twitter]
Transformer




Number of posts

: 107


Location

: Metro Manila


Job/hobbies

: surfing


Registration date :

2008-10-07





Similar topics
---
Permissions in this forum:
You
cannot
reply to topics in this forum